Blog
The Titans season was cut short this year as the team was eliminated in round #2 of the playoffs by the Almaguin Spartans.  As in years past the team would meet one last time before all the players head back home for the summer.  Friday evening, the team met for a last banquet together and at the same time the individual team awards were handed out.
Fan favorite award : Tomas Mastalirsky
Elliot Willetts award for most dedicated: Hugo Noller & Kurtis Klinger shared the award
Best team spirit award: Scott Sovinsky
Most improved player award :  Hampus Fagrell
Congratulations to the winners but most of all great work done by every member of the Titans.
Similar Articles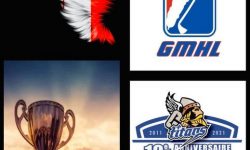 The Greater Metro Junior "A" Hockey League is proud to announce the addition of a National Championship Event to conclude
Read More