Blog
Titans advance to round 2
The Titans will now have almost 5 days to lick their wounds from their series with the Meaford Knights following a 5-3 series clinching win in Meaford on Saturday night. Dayton Murray started the scoring with his trade mark slap shot that beat former Titans netminder Raffaele Izzo and the Titans headed to the first intermission leading 1-0.
The second period had an explosion of 7 goals 4 of which came from the Titans. Adam Edmands, Alex Provost-Ross, Michael White and Harald Sundell. The Titans had built up a 5-0 lead until the Knights replied with a trio in the last 2 minutes of the second period.
The final 20 minutes of the Knights season was a scoreless one. Unfortunately things got a little ugly in last seconds of the game as several of the Knights players decided to jump off the bench and attack the Titans players. The referees handled the situation extremely well and called the game at that point. Emile Goulet got the win in goal.
The Titans next opponent looks like it will be the Spartans. But this is not confirmed as of yet.
Similar Articles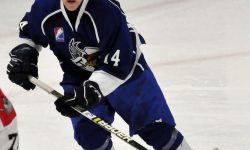 While the team had taken a 4-2 lead after 20 minutes, the Lynx came back into the game to level
Read More