Blog
Titans are thrilled to announce the signing of defenseman Valentyn Tymko (2003) 6'9" 218.
The 20-year-old giant defenseman was born in Ukraine but moved to the Netherlands when he was 8 years old. He is now of Dutch nationality.
Valentyn, who can also play on the wing, has played for the Hertogenborsch Red Eagles in the 2nd Pro Division for the past 2 seasons in the Netherlands.
His physical strength and long reach are tools that are obviously very useful to him.
A highly motivated player, he wanted to play in Canada to have a chance to pursue his development in a country with a strong hockey culture.
Valentin is a serious young man. He has athletic DNA in him, his parents having represented Ukraine at the London Olympics Games in rowing.
The apple did not fall far from the tree in his case.
Polyglot, he speaks English, Dutch, Ukrainian and Russian.
Our new Titans will land with us on September 1st.
Until then, he will participate in a 10-day development camp in Neratovice in Czechia from August 19 to 29 under the direction of Ukrainian coach Oleg Tsyrkunov, a former OHL and North American professional leagues.
Welcome to Temiscaming Valentyn
Similar Articles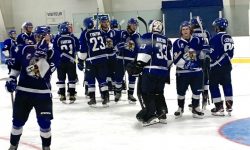 Your Titans played a strong game tonight and after taking a 5-0 lead in the first period, the team cruised
Read More