Blog
Titans are pleased to announce the signing of forward Vincent Huot-Orellana (2002) 6'3" 195.
3rd best scorer for the West Island Shamrocks 2 years ago in the Quebec JrAAA League and one of the 20-year-old players added during last season by the Valleyfield Braves, the burly winger has played 3 seasons at Quebec JrAAA level, in addition to a few games at the senior level.
Vincent is a hard working power forward, his acceleration and his powerful shot are very useful tools fir sure. Our our new Titans is coming in Temiscaming aiming at living his best season at the Junior ranks.
Vincent has never prepared so well for a hockey season, he who jumps on the ice 3 to 4 times a week now and goes to the gym for 4 weekly sessions.
We welcome a highly motivated 21 year old player.
Welcome to the Titans Vincent.
Similar Articles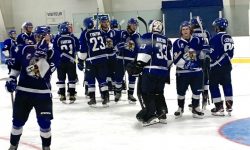 Your Titans played a strong game tonight and after taking a 5-0 lead in the first period, the team cruised
Read More