Blog
The Titans would like to offer their most sincere sympathies to the entire Gionet family for the loss of "Pete".
A lot of very nice things have been said about our beloved Pete by all those who either knew him personally or had met him at the rink, ball field or any sporting event in town. A conversation with Pete in the hockey season meant one thing, his Montreal Canadiens. I don't think that there is a bigger fan of the Habs than Pete. In 2013, Pete was given the enviable job of coaching the Montreal Canadiens oldtimers for their game at the Centre. Pete's co-coach was none other than Guy Lafleur.
Pete was also a big fan of the Titans and was visible at a lot of our home games in our 6 year history. He will be missed by our community. So Long Pete!!!
Similar Articles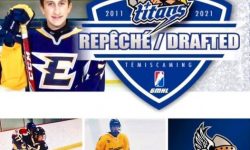 Titans announce the signing of our 2021 8th round at the last GMHL Draft, defenseman Karl Champagne (2004) 5'11 ''
Read More