Blog
The Titans are extremely pleased to announce that Justin Roy has been named to the position of Head Coach for the remainder of the season.
Well known and respected in the community, Justin was the organisations first choice. Being part of the team since the start of the season as assistant coach, Justin is more than aware of the inner workings as well as being familiar with all the players.
The new Titans Head Coach had this to say.'' Being a local from Temiscaming, I will take great pride in being the head coach of the Temiscaming Titans and do my best to bring a championship back to this town. But rest assured, win or lose, I can assure you we will play a style of hockey that will make all people part of this organization and town proud…and that will be a brand of hockey played with passion and hard work. I would also like to thank coach William Bendi. It was an honor to be by his side and I'm confident that what I learned from him will smooth out the transition from assistant coach to now Head Coach. Lastly and most importantly, I would like to thank my amazing partner Jessie Bond and my kids for supporting me through this decision making process and agreeing to taking on this challenge together over the next several months.''
At 31 years old, the Temiscaming native played 4 seasons in the NOJHL with the North Bay Skyhawks and followed with four years in the NCAA playing for the Salem State Vikings.
Justin takes the helm of the team as they trail the first place Spartans by 6 points but hold three games in hand on these same Spartans.
Similar Articles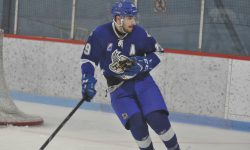 The Titans once again were up against a top team in the Rattlers played a strong match, directing 55 shots
Read More