Blog
Spartans leave the Centre in 1st win 5-4 win
In a game that gave a taste of what the final in the North Division might look like, the Spartans and Titans played a robust 60 minutes, a tempo first imposed by Almaguin's big forwards, a tight game played with emotion, the Spartans beat the Titans 5-4. Although several dubious decisions by the officials did not benefit the home team, the best team on the ice won tonight.
 Attack for attack, the 2 clubs are equal, but the Spartans' defensive brigade is superior to that of the Titans who still lined up 2 forwards playing defense tonight.
 For fans who wonder, GMHL teams have until January 15 to add players or trade.
 Adam Edmands. in his second game with the team, scored 2 goals, and seemed to improve on each shift This player will be important to a playoff team.
 The Titans were trailing 4-2 early in the third period and came back to tie the score with 9 minutes left. Charles Blandin and Rylan Freed had the other Titans goals. Emile Goulet took the loss. Shots were 41 apiece. 3 stars Matt Labrosse(S), Adam Edmands and Alex Whitehair(S)
 The Spartans could have had a few more goals if not for the goalies best friend, the posts. No less than 4 posts in this game.
 Big weekend for the Spartans who won 3 games in 3 nights.
 Almaguin moved to 1st place in the North Division, 2 points ahead of the Titans, who however played 2 games less than the leaders.
 The Titans will play their next game at West Nipissing next Friday, the Lynx who got crushed 12-1 against the Pirates tonight in Ville Marie.
Similar Articles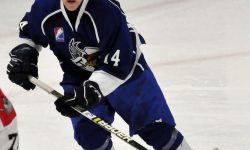 While the team had taken a 4-2 lead after 20 minutes, the Lynx came back into the game to level
Read More