Blog
Titans had a bad one in the system and picked the best team in the league as their opponent to live it.
An clear 8-1 loss tonight in Bradford.
The Rattlers deserved the win as they took a 4-1 lead in the 1st period and 8-1 after 40 minutes. No goals scored in 3rd:
Thomas Laforge was the Titans' lone scorer.
Éloi Bouchard was pulled out in the 1st period when the score was 4-0 Rattlers. Emmanuel Pepin played the rest of the game.
The only positive thing about this game is that in the playoffs a 8-1 or 2-1 loss does not influence the course of the series. The Rattlers only take a 1-0 lead in this Best of 5 series.
The Blue will have the opportunity to recover tomorrow evening at the Center when the 2nd game of the series will be played at 7:00 p.m.
Similar Articles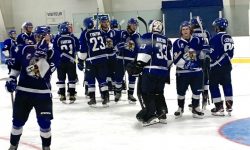 Your Titans played a strong game tonight and after taking a 5-0 lead in the first period, the team cruised
Read More