Blog
The Titans received some excellent news today in the form of defenseman Philemon Gentes who is going to make a return to the team. Philemon who played with the team last season was playing in the LHJAAA with les Montagnards of Saint-Gabriel-de-Brandon in the Montreal area this season.
In 30 games during the 2016-17 season, Gentes had 3 goals and 4 assists. Philemon is a versatile defenseman who can play a good two way game. Strong in his own zone in keeping the front of the net area clear of opposing players but can also join in on the rush into the offensive zone. The 6 foot 190 lbs defenseman will add some much needed size to our back end. With the recent rash of injuries, he will most likely be a welcomed addition .
Philemon will be wearing jersey #15 and will be arriving on Monday November 6th.
Welcome back Phillé !
Similar Articles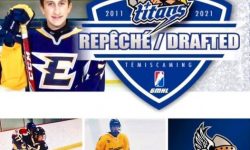 Titans announce the signing of our 2021 8th round at the last GMHL Draft, defenseman Karl Champagne (2004) 5'11 ''
Read More