Blog
OFFICIAL RETIREMENT OF ÉLOI BOUCHARD JERSEY
We are so pleased to announce that the jersey retirement ceremony for our goalie Éloi Bouchard will take place on Saturday, September 16 at 8:00 p.m. just before our 2nd game of the season.
A banner bearing the number 31 will be hoisted from the roof of the arena to join the other retired jerseys on the team.
Éloi defended our net for 4 seasons.
During these 4 years, the team won 2 Division Championships, 1 League Championship 1 Russell
and lost last spring in the game for the
.
In addition, covid deprived Éloi and the team of another participation in the
Finals in March 2020.
Éloi was named on the North Division All-Star Team twice and topped all league regular goaltending stats in the 2021-22 season.
In the 2021-22 playoffs he won all 13 games the Titans played en route to our 2nd Russell
Championship, posted 3 shutouts and a 1.46 GAA and near .970 save % during that span.
Between February 2020 and February 2023, Éloi won 19 consecutive playoff games.
He won the Fans Choice Award the past 2 seasons, in addition to having been one of the few goalies to wear the C on his jersey at the Jr ranks.
A remarkable Junior career that led Éloi to see the number 31 retired forever and earned him the ceremony official jersey retirement.
Saturday September 16 at 8pm
While the West Nipissing Lynx will be in town.
Similar Articles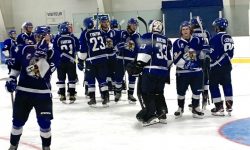 Your Titans played a strong game tonight and after taking a 5-0 lead in the first period, the team cruised
Read More