Blog
Late signing for the Titans
The Titans announce the signing of 21-year-old forward Nicolas Vandal.
With the LHMJAA Predators of St-Laurent last season, Nicolas specialized in defensive situations, particularly while playing shorthanded. Even in a defensive role, he still collected 18 points in 28 games.
Winger with speed, here is a versatile player that will fit well in the style of team that Justin Roy loves to lead.
Nicolas comes to Temiscaming to play his final junior seas…on, always a sign of a determined player. Nicolas will wear # 9 on his jersey.
Welcome to Temiscaming and the Titans Nicolas.
Similar Articles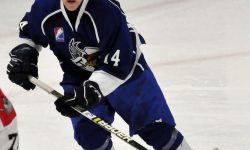 While the team had taken a 4-2 lead after 20 minutes, the Lynx came back into the game to level
Read More