Blog
Another close game tonight as the team took a 2-1 lead after 20 mins and retired to the dressing room after 40 mins with a 4-3 score.
The 2nd game in 2 nights with 7 missing players left its mark in the 3rd and the Meaford Kingts won 7-4, the last goal scored in an empty net.
Thomas Laforge with 2, Jerry Mongrain and Ivan Kozlenko scored the others.
The team lost the services of Nicolas Vachon injured in the first period.
Doyle, Presseault, Lemaire, Lavoie and Stegmann will return to the line up on Sunday as we return to Bradford, this time against the Rattlers.
Similar Articles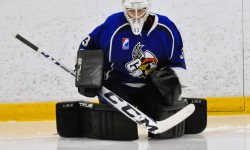 Your Titans hit a wall with limited resources against the leading team in Bradford. Although the boys tried hard, trailing
Read More