Blog
Former Titans Joakim Braneby will be playing in Sweden's Division 1 for the 2019-20 season as he recently signed a pro contract with Lindlövens IF.
The smooth skating power forward arrived in Temiscaming for the 2017-18 season and carved himself a 22 goal, 12 assist first season.
The 6'1'' 205lb forward was very quick to adapt to the North American style of play and the smaller ice surface.
In year number two, he more than doubled his first year's production with 69 points on 40 goals and 29 helpers.
Joakim's size allowed him to go into the trenches to dig out the puck in the offensive zone. He was also very difficult to move out of the crease area. Joakim had excellent offensive skills that his 62 goals show. But his skills were just as evident in shorthanded situations as well.
A complete 200 foot player ! Braneby played in one showcase tournament and was selected to this past season's All Star game to represent the Titans.
Good luck in your pro career Joakim from all your former teammates, fans and friends in Temiscaming !
Similar Articles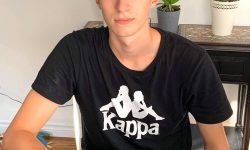 The Titans are pleased to announce the signing of goaltender Tyson Beaudoin, the team's 4th round pick in the last
Read More