Blog
Suspended by the league because of his penalty as an instigator in a skirmish during yesterday's game against the Spartans, Guillaume Taupier will miss the GMHL All Star Classic.
The misfortune of some is sometimes the good fortune of others as Harald Sundell will take his place in the group of the 5 Titans who will participate in the event. Author of 16 goals and 38 points in 30 games, Sundell is currently the team's 4th leading scorer. This is a great reward for the big Swedish winger.
Rylan Freed, Simon Brannvall, Michael White, and coach William Bendi will also be competing on Tuesday night at South River.
Similar Articles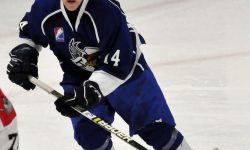 While the team had taken a 4-2 lead after 20 minutes, the Lynx came back into the game to level
Read More