Blog
Titans spring tournament.
The Centre was holding one last event before the ice is removed for the summer. The 10th annual Titans spring hockey tournament had a total of 16 teams in three divisions competing for the $3,200 in prize money up for grabs at the Centre on April 14-15-16. There were 4 teams in open division, 8 in the recreation division and 4 in the mixed. Teams from Notre Dame du Nord, Winneway, Kirkland Lake. Sudbury, Sturgeon Falls, North Bay and of course Temiscaming. A total 33 games were played starting on Friday and the last game was Sunday at 5pm.
The division winners and finalists received cash prizes in each of the three divisions. In the mixed it was Wyse Guys doubling the score over Nuts & Knockers, 6-3. While in the recreation division the local team of Tembec took the honors 7-2 over the Chums (NDDN). In the last matchup of the weekend in the open class, the G-Joeys captured the win by a score of 5-1 over the Sockless Seals from North Bay to claim the first prize of $1,000.   The win for the G-Joeys was their 3rd in the last 4 years. The team is comprised of former Titans players and coaches including Andre Leclair, Robin Mendelsohn, D.J. Tahbazian, Mathew Chasse, Richard Abbott and Nathan Hewitt. Almost 30 former and present Titans were participating in the tournament. Saturday night a dance in the Dottori hall had the battle of the DJ's which attracted about 260 who enjoyed the evening until the wee hours. The Titans made a donation of $1,000 to the French graduating class of EGT for their help over the weekend. A great big thank you goes out to Kelly Turner and the staff of the Centre for their excellent work throughout the weekend keeping the ice and dressing rooms in tip top shape. Also special thanx goes to Tasha McGowan for handling the bar all weekend. Jean-Marc Violette referee in chief of the tournament and his crew did a stellar job as did the group of young people that worked the clock and scoresheets. And not to forget Peter Pope, head of security for his contribution of many, many hours this weekend.
Similar Articles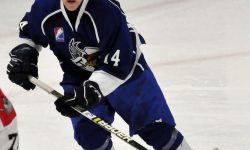 While the team had taken a 4-2 lead after 20 minutes, the Lynx came back into the game to level
Read More