Blog
 The Temiscaming Titans are very pleased to announce the free agent signing of 20 year old forward Erik Lilliecreutz. The 6'2", 180lb center from Jonkoping, Sweden comes to the Titans following 2 seasons playing for HV71 J20 of the Swedish SuperElit league where he had 4 goals and 4 assists in 56 games in that period. The SuperElit league is the highest-level junior hockey in Sweden. Most team…s in this league are farm teams either for HockeyAllsvenskan or the SHL(Swedish Hockey League).
Erik commented that he is extremely happy to come and play hockey in Canada and is looking forward to being a major contributor to the team's success. He describes himself as 2 way center with good vision and positioning. He added that his strong point is when he has the puck and the ability to either send his line mates in a scoring opportunity or letting fly with his good shot.
"Erik's ability to control the game with excellent puck control and decision making will most certainly have him leading the Titans throughout the regular season and beyond" says Titans GM Nicolas Tourigny.
Erik will be wearing jersey #11
Welcome to Temiscaming and to the Titans Erik !
Similar Articles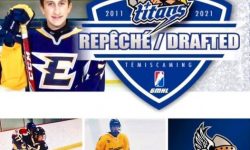 Titans announce the signing of our 2021 8th round at the last GMHL Draft, defenseman Karl Champagne (2004) 5'11 ''
Read More