Blog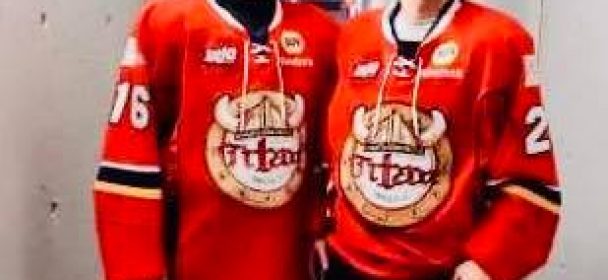 The Dynamic duo are reunited in Temiscaming !
The Titans are extremely happy to present to you their 2 most recent acquisitions.
Yannick Ethier and Marc-Antoine Turcotte become Titans. Yannick played with Quebec's league champions Princeville Titan Jr. AAA last season, winners of the Napa Cup, and made the Fred Page Cup final in Nova Scotia.
Meanwhile, Marc-Antoine Turcotte won the league championship of the Quebec Jr. AA league with Laval. Marc-Antoine had a season of 67 points in 29 games, 27 goals and 40 assists, he also spent some time in Princeville.
Yannick had some impressive numbers with 21g-34a-55 points in 48 games last season in Princeville. Titans General Manager has this to say about these two talented forwards.
"Yannick and Marc-Antoine are childhood friends who really wanted to finish their Jr career together by aiming for the best season of their lives. When they were reunited in the same team at the Bantam and Midget levels, they have dominated their team or their league in terms of points. If Yannick has evolved to a higher level than Marc-Antoine in the last 2 seasons, the is mainly due to Marc-Antoine who was working a full-time job, which limited his possibilities.
Last year he signed to Princeville and lost his place after just 4 games when a 20-year-old from the QMJHL was transferred to Princeville. The Titan ending up with 1 player 20 years of age over the allowed limit, as Marc-Antoine was the last to arrive, he unfortunately was the player who was released".
"Both are really good. Marc-Antoine is mostly a play maker and Yannick a goal scorer.
Coach Sébastien Lacroix knows them all very well for leading them last season in Princeville.
We are really excited to know that they will live one last season of Jr together here in Temiscaming. "
Note that Marc-Antoine has collected 105 points in 55 games in the last two seasons, while Yannick has accumulated 99 in 84 games.
Yannick Ethier will be number 10 and Marc-Antoine Turcotte will be on the 17th.
Welcome to Titans Yannick and Marc-Antoine.
Similar Articles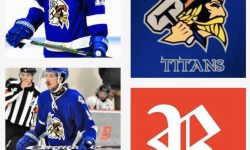 Titans announced we are sending Def William Godbout (2000) and Jeremy Brooks (2000) ON LOAN for the remaining of the
Read More