Blog
Simon Brannvall signs with Sollentuna HC
Former Titans power forward Simon Brannvall has just signed his first pro contract in Sweden for the Division 1 Sollentuna HC Dragons. In his only season with the Titans (2017-18) he was only one of four players that played all 42 games of the regular season. Simon earned 38 goals and 37 assists for 75 points. Many of Simon's goals were of the highlight of night variety. Either his patented end to end rush finishing with a charge in towards the opposing goalie or his laser beam slap shot. Either way he gave the crowd a lot to cheer about. Simon was also not a stranger in the penalty box with 98 minutes in sin bin time. His aggressive play made him a target from the opposing team night in and night out.
The Titans wish Simon nothing but the best of luck in his professional career.
Best of luck #76 and remember
TITANS FOREVER !!
Similar Articles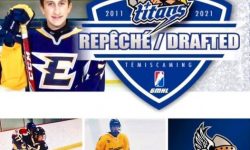 Titans announce the signing of our 2021 8th round at the last GMHL Draft, defenseman Karl Champagne (2004) 5'11 ''
Read More