Blog
Titans double up on Lynx…again
The Titans bounced back today, skated and played hard, and won 8-4 over the West Nipissing Lynx.
The team looked a lot better than the night before.
Some adjustments in the lines paid off.
Alexander Provost-Ross patrolling the center, while Bailey Chenier found his winger position. This change allowed Bailey to use his speed and get his best game of the season. He was named player of the match by the team.
The other change was to bring the south of the border boys together. Hayden Moistner, Kyle Weeks and Cody Woodward. The trio of Americans were stubborn, hit and cleared with energy.
Hats off to Marc-Antoine Turcotte for his 3 goals. Zacharie Maheu also played a very strong game.
The Titans will play their next game in Bracebridge against South Muskoka on September 20th.
Go Titans!
Similar Articles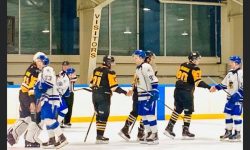 The Titans advance to the second round of the GMHL playoffs tonight with a 4-1 win over the Lynx in
Read More