Blog
Murray & Guenette heading to GMHL All Star game.
Titans players Ryder Murray and Adrien Guenette have been voted to play on Team Canada vs Team World at the GMHL All Star game to be held in Tillsonburg on January 10th. Ryder Murray leads the Titans in scoring with 21 goals and 41 assists. Adrien Guenette is third in scoring with 15 goals and 16 assists.
Earlier in the season Ryder established himself as the GMHL's all time assists leader surpassing 212 assists (Dylan Sontag, SM Shield). Presently he is also 2nd all time in scoring with 363 regular season points and 55 playoffs points for a total of 418. He trails SM Shield Dylan Sontag by 39 reg season points and 17 playoff points for the overall leader. Congrats to Adrien & Ryder !!
Similar Articles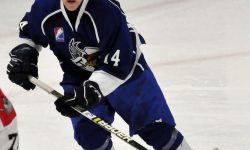 While the team had taken a 4-2 lead after 20 minutes, the Lynx came back into the game to level
Read More