Blog
With a little more than a month from the start of the Titans training camp, we can sense that some of the players more and more anxious to join the Titans.
Today, on one of the warmest days of July, a first visit of the locker room for goalkeeper Eloi Bouchard (31) and winger Xavier Sincennes (44).
The 2 new Titans were in town to settle their home for the upcoming season and discover their new environment.
The two said they were extremely motivated and happy to join the Titans.
Éloi was signed as a free agent, while Xavier was obtained through a deal with Ottawa.
Welcome to Temiscaming guys.
Similar Articles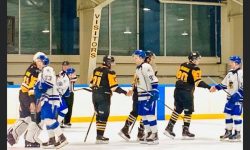 The Titans advance to the second round of the GMHL playoffs tonight with a 4-1 win over the Lynx in
Read More