Blog
The Titans found their early season style of play as HC Justin Roy's gang had a 13-3 feast on the Seguin Huskies.
 This was only the second game since late November that the Titans have their full blue line corps on the ice and, despite a couple of turnovers in their territory, the game of the defensemen was much better tonight than in a long time.
 In the scoring department, Rylan Freed played a strong 60 minutes, he had to be forgiven his bad match penalty at the last outing. Number 22 scored his 37 and 38th of the season in addition to preparing 2 others. The Titans center now totals 89 points in just 32 games.
 Simon Brannvall was also up to the challenge this evening, completing a hat trick and being an accomplice to 2 other goals. The Swedish train totals 34 goals and 71 points in 39 games. Braneby (2-2), Wilhelsson (2-1) and Edmands (1-3) also generated a lot of offense. Other Titans goals came off the sticks of Hampus Andersson(1), Charles Blandin(1), Loic Odin(1). Nick Proulx had 4 helpers and Alex Provost-Ross had three. Shots were 61-22 Titans. 3 stars Jakob Wilhelmssson, Joachim Braneby and Niko Kakko from Seguin.
 I like what Mogard and especially Palsson bring as energy on the 4th line. Keeping them for the rest of the season and let them develop that chemistry with Lijia. This is a combination that would benefit from remaining unchanged.
 There are only 3 games left in the regular season for the Blues who, winning tonight, join the Pirates with 53 points, the latter having however played 2 less games.
 In Ville-Marie tonight, the Spartans beat the Pirates 4-2, thus stopping the winning streak of our neighbors to the north at 8 games.
 The Pirates' hopes of winning the division's championship diminish sharply following this defeat. The Spartans would have to lose their last 2 games and the Pirates win their last 5 games to finish 1 point in front of Almaguin. This being unlikely,as the Spartans receive the West Nipissing Lynx at their next game.
 In another game that was watching, Meaford beat Bradford 5-3.
 The 2-game suspension to goalkeeper Trevor Babin will likely cost the North Division championship to the Rattlers.
 The standings in the North Division for the 5 best clubs:
 Almaguin (40) 62
 Bradford (38) 56
 Ville-Marie (37) 53
 Temiscaming (39) 53
 Meaford (39) 47
Similar Articles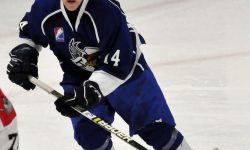 While the team had taken a 4-2 lead after 20 minutes, the Lynx came back into the game to level
Read More