Blog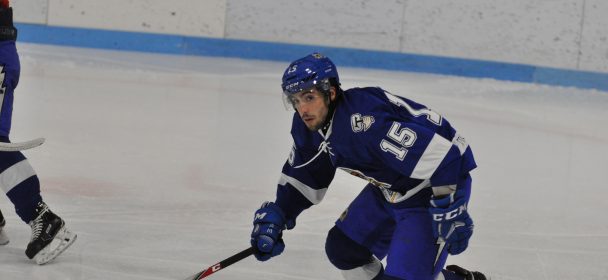 In a typical playoff game, tight checking, body checks all over the ice and a lot of grinding along the boards. The Titans took the lead 1-0 in the series against West Nipissing, winning 4-3 tonight at the Center.
Nikita SIdenko put the Titans on the board at 2:22. The Lynx tied it up about half way through the period and then took a 2-1 lead on a shorthanded marker. But with less than 2 minutes to play in the period a beautiful 3 way passing play concluded with a Dayton Murray to send the teams to the first intermission at a 2-2 deadlock. In the middle period each team scored a goal to head to the final 20 minutes tied again but this time ar 3 goals apiece. Erik Lilliecreutz pounced on a rebound to beat Lynx goaltender Jacobsen. The third period was a cautious affair as both teams didn't want to commit the fatal mistake that would result in the go ahead goal. At the 11:52, some hard corner work paid off as Italy's Filippo Guaita put the Titans ahead. A solid game by several Titans including Tyson Lambert on the blue line, Alex Provost-Ross was his usual hard working forward, winning important face offs and working hard on the boards digging out pucks. In goal Emile Goulet continues his stellar performances. Shots were 50-37 Titans. 3 stars Erik Lilliecreutz, Ralfs Circenis and Lynx William Michaud.
Both teams will be back at it at 7:30pm tomorrow night in Sturgeon Falls for game #2. The Lynx will not go down without a fight as they're a lunchbox type team. They work hard for 60 minutes.The Titans need to be ready !
Similar Articles
Titans showed up tonight and played a much better game than the day before. Unfortunately they lost 5-4 against the
Read More