BLOGUE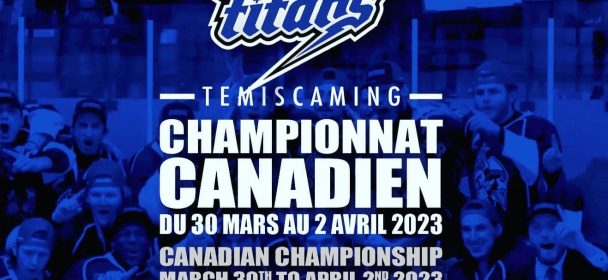 Voici l'horaire des matchs du Championnat National qui sera disputé à Témiscaming dans un peu plus de 1 semaine, du jeudi 30 mars au dimanche 2 avril.
Here is the National Championship schedule from March 30 to April 2.
Nous aurons 2 parties/jour et 1 seule pour la grande Finale pour l'obtention de la
Russell le 2 avril à 15:30.
2 games/day except Sunday April
2nd with only 1 game for Russell
Finale
Jeudi 30 mars/Thursday March 31
NORTH vs SOUTH 17:00/5pm
WEST vs TITANS 20:15/8:15pm
Vendredi 31 mars/Friday March 31
SOUTH vs WEST 17:00/5pm
TITANS vs NORTH 20:15/8:15pm
Samedi 01 avril/Saturday April 01
WEST vs NORTH 15:00/3pm
SOUTH vs TITANS 19:30/7:30pm
Dimanche 02 avril/Sunday April 2
RUSSELL
Finale
Au moment d'écrire ces lignes, aucune équipe n'est encore officiellement qualifiée pour le Championnat à l'exception des Titans.
Actually, Divisions playoffs are still underway.
No teams qualified for
Championship yet except your Titans.
Séries 4 de 7 en cours:/Best of 7
NORTH DIVISION
Bradford Rattlers (3) Pirates Ville-Marie (1)
SOUTH DIVISION
North York Renegades (3) Bradford Bulls (0)
WEST DIVISION
Série 2 de 3/Best of 3
MacKenzie vs High Prairie
Série commence vendredi/Starts Saturday
VENTE PRIORITAIRE de billets
PRIORITY Sales tomorrow
DEMAIN (jeudi) 16:00 à 18:00/4pm to 6pm
Bubba's Corner
Laissez-passer 7 matchs/Championship pass 75$
Jeunes de 6 à 15 ans /Kids 6 to 15 40$
Billets unitaires/single tickets 15$
60 ans+ 13$
6 à 15 7$
Enfants moins de 6 ans GRATUIT
Kids under 6 FREE
Forte demande de billets présentement.
Heavy sales request!!!
Similar Articles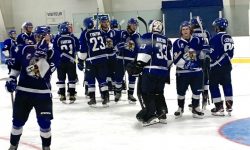 Les Titans ont disputé un fort match ce soir et après avoir pris l'avance 5-0 en 1ere période, l'équipe a
Read More