BLOGUE
Titans announce the signing of Russian forward Gadel Khismatullin (2001) 5'9" 150.
Gadel's Junior career so far has been atypical for a Russian player.
At 17 and 18 he went to play in the USA having a solid rookie season of 36 points in 36 games. In his 2nd season he did even better with 60 points in 47 games.
Back in his country at age 19 he played in the NMHL, the Russian JrA where he had a good season and wore an « A » on his jersey.
Then he caused a surprise at the age of 20 by signing professionals in Slovakia in the strong Division 2.
At that young age and with only limited ice time, he was sent down late in the season to Division 3.
At this level, he maintained an average of 1 point per game and won the playoffs championship
with Trebisov HK. He was the youngest player on the team.
This season his production suffered from the little ice time he enjoyed on a champion team whose average age was nearly 27 years old. He therefore wanted to move to Canada and was aiming for the chance to play again for the
with your Titans.
His visa file was processed faster than others because he lived in Slovakia rather than Russia.
He arrived in Canada just in time on Tuesday evening and has been with us since noon yesterday.
A passionate story of Junior and professional hockey for the new Titans number 14.
Welcome to Temiscaming Gadel Khismatullin
Similar Articles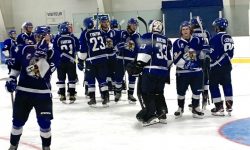 Les Titans ont disputé un fort match ce soir et après avoir pris l'avance 5-0 en 1ere période, l'équipe a
Read More