Blog
William Godbout returns for 2 years with the Titans
The Titans announce that blueliner William Godbout has signed a 2-year contract with the team to complete his Jr hockey career balance with the Titans.
The former Mont Ste-Anne LHPS captain amassed 18 points in 27 games before sustaining an injury which kept him out of the game for the remainder of the season.
Our GM has these words about William:
"Will is a mobile defenseman, capable of generating on the attack while being responsible defensively. He is the prototype of the modern defender.
William asserted himself as a defensive leader at the time of his injury. At 20, he will likely be one of the Titans' 2 quarterbacks this season.
Will is also a very good fitness athlete.
It will be good to find him in the lineup for the next 2 seasons. "
Before joining the Titans, William wore the colors of the Maine Wild in NA3HL, an American hockey league.
Welcome back to Témis William.
Similar Articles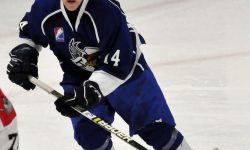 While the team had taken a 4-2 lead after 20 minutes, the Lynx came back into the game to level
Read More