Blog
Two goals from David Fontaine, 4 assists from Charles-André Cypihot and a good defensive game in general led the Titans to their 35th win this season, 5-1 at Meaford.
David quickly scored his 2 goals in the 1st period and the Titans never looked back afterwards.
Jérôme Rochefort, Christophe Laniel and Christopher Fanfan also scored for the Titans.
Solid in front of his net, Tyson Beaudoin ends his regular season with a perfect 13-0 record in his 1st real season at the Juniors level.
With this win, Titans improve their record to 35-2.
Coach Seb's troop will be the first ones this season to reach the milestone of 70 points in the North-South divisions.
The team is now guaranteed to finish with the most points in the North and South  combined.
There is only 1 game left in the regular season for your Titans, this Sunday at 3:00 p.m. at the Center against Ville-Marie.
Similar Articles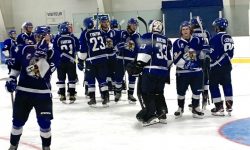 Your Titans played a strong game tonight and after taking a 5-0 lead in the first period, the team cruised
Read More