Blog
Another one bites the dust.✌️
The Titans played a superb game on the road Friday night in South River, excelling in the fore check and winning many battles along the boards and earned a 14th win in their last 16 games tonight at South River. 2 goals from Nikita Sidenko, the winning goal being that of captain Dayton Murray, plus an insurance goal by Joakim Branebyin an empty net, in a 4-2 win over the Spartans.Axel Hallor chipped in with 3 assists
Once more, the Titans limited their opponent to 3 goals or less. This is a 13th win in the last 14 games using this recipe. The Titans have also allowed only 8 goals in their last 5 games. The Blues will now play their next 2 games in Ottawa tomorrow and Sunday. The Titans are now only 6 points from 1st place and have 2 games in hand on the leading team. Tim Cachard collected the win with another solid effort between the pipes facing 30 Spartans shots.
Similar Articles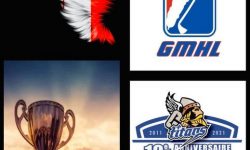 The Greater Metro Junior "A" Hockey League is proud to announce the addition of a National Championship Event to conclude
Read More