Blog
Connor Johnson traded to Almaguin.
The Titans announce that they have traded goalkeeper Connor Johnson to the Almaguin Spartans for an 8th round pick in the 2021 Draft.
Connor played 4 games last season.
Throughout the season, despite the fact that he had played very little, Connor had created an irreproachable attitude.
The Titans thank you and wish you good luck Connor.
Similar Articles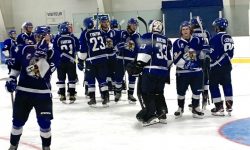 Your Titans played a strong game tonight and after taking a 5-0 lead in the first period, the team cruised
Read More