Blog
Titans are excited to announce the signing of defenseman Landen Jerome (2003) 6'2'' 201.
Landen Jerome has played with Le Sommet Academy Prep for the past 2 seasons.
Landen is a right-handed defender who focuses on his defensive work first, a player whose game sometimes goes unnoticed but who is essential in a good team. Our new defenseman is solid and smooth skater in the mold of all our Def this season.
The young man from Barrel Lake, Quebec was drafted by your Titans last May.
He is a player that we identified last season as a very good prospect.
We are very pleased that he chose Titans for the continuation of his career. Landen is eligible for 2 seasons with us.
Similar Articles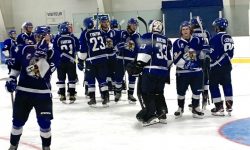 Your Titans played a strong game tonight and after taking a 5-0 lead in the first period, the team cruised
Read More