Blog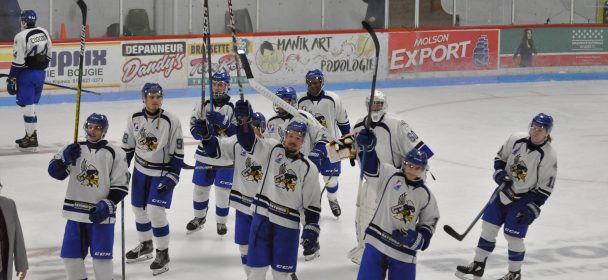 eudi soir 20:00 au Centre contre Bancroft.
Go Titans!
Titans win 13-4 today over the South Muskoka Shield in what was only our 2nd game in front of our fans in 9 outings.
Slow start for our club which was playing a 4th game in less than 5 days. However, the team progressed through the game to explode with 7 unanswered goals in the third period.
Note the 3 goals of Ilya Badanin.
Doubles for Fontaine, Cypihot and Doyle.
4 assists from captain William Godbout.
It was Tyson Beaudoin who was in goal this afternoon.
Mission accomplished for the Titans who won 4-3 Wednesday night against the Bulls in Bradford, 8-5 Thursday against the Civics in New Tecumseth, 7-1 last night against the Lynx in Sturgeon Falls and 13-4 this afternoon at Center.
With an 8-1 record, yourTitans are 1st with 6 points ahead the second place team in the North Division standings.
The team's next game is Thursday night 8:00 pm at the Center against Bancroft.
Go Titans!
Similar Articles
Titans showed up tonight and played a much better game than the day before. Unfortunately they lost 5-4 against the
Read More