Blog
A young combative player joins the Titans
The Titans announce the signature of a 5th player in as many days.
This time, it's Félix Filiatrault, a center (2002) 5'10"185lbs will wear the blue uniform in September.
Felix has spent the last 2 seasons with the Standstead College team.
In his last season he scored 4 goals and 7 assists for 11 points in 16 games. His usefulness in the team is measured not only in how many points he made.
Previously, he was captain of the Verb-Divine Titans in the LHPS.
Since his coach was none other than the current head coach of our team, let's see what coach Lacroix thinks:
"Felix is a hard worker. He has good physical strength because he trains like a real athlete.
At the level of his game, here is a center with a good vision and intelligent. He understands the systems very well and applies them at the right time and in the right way … Effective at the face-off circle and very reliable in his zone. This is a young person who is ready to take the necessary means to succeed, even leaving home at age 14 to go play and study in English in Stanstead. Happy that he has made the choice now to come and continue his career in Témiscaming "
Welcome to the Titans Felix.
Similar Articles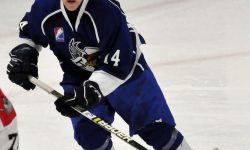 While the team had taken a 4-2 lead after 20 minutes, the Lynx came back into the game to level
Read More