Blog
Titans defeated Meaford 8-6 tonight and are back in 1st position in the North Division.
Ethier (2-1), Maheu (2-0), Labelle (1-3), Provost-Ross (1-1) and Tremblay (1-1) on the score sheet for the Titans.
With a 5 assists game, Marc-Antoine Turcotte is now the new GMHL recordman for the most assists in a single season. Turcotte has now 92, previous record was 88 held by Chris Haigh from St-George.
Titans 29-7-1 (59 pts) are meeting the Rattlers in Bradford on this Sunday evening.
Go Titans!
Similar Articles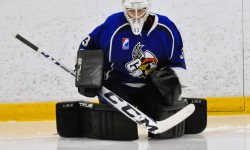 Your Titans hit a wall with limited resources against the leading team in Bradford. Although the boys tried hard, trailing
Read More