Blog
Titans continued their streak by defeating the Almaguin Spartans 8-2 tonight at the Center.
Andrei Svalov and Nathan Hardy scored twice each, Badanin, Fontaine, Laforge and Lavallée scoring the others.
David Fontaine ends his evening of work with 3 points (1-2) just like Charles-André Cypihot (0-3).
Goalie Deric Rivet scored is the winning goalie in his first game with the team.
Titans thus register a 22nd consecutive win.
The Blue are 23-1 for 46 points out of a possible 48, 7 points ahead at the top of North Division.
The team's next game is this Friday night at the Center against Ville-Marie.
GO Titans!
Similar Articles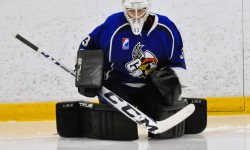 Your Titans hit a wall with limited resources against the leading team in Bradford. Although the boys tried hard, trailing
Read More