Blog
54 shots on the opposing net en route to a 6-1 win over the Almaguin Spartans.
The Cypihot-Fontaine duo were active once again this evening. David Fontaine (1-3) and Charles-André Cypihot (1-2) led the attack.
Nathan Hardy (1-1), Christopher Fanfan, Reingold Shtemke and Jay Rochefort each scored 1 goal.
Rochefort will be out tomorrow, suspended for fighting tonight.
Tyson Beaudoin wins his 9th. Tyson he's undefeated so far this season. He lost his shutout at 2 seconds from the end of the game.
Your Titans (21-1) won their 20th consecutive game tonight.
Coach Lacroix's team is back in action in a few hours. Titans go to play this Saturday night in Sturgeon Falls again the Lynx in West Nipissing.
Similar Articles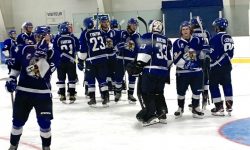 Your Titans played a strong game tonight and after taking a 5-0 lead in the first period, the team cruised
Read More