Blog
A 4 goal performance from Yannick Ethier and 3 from the captain Alexandre Provost-Ross led the Titans to a 9-4 triumph over the Spartans.
Even if the game was meaningless in the standings, it permitted Ethier to establish a new team record of 57 goals. André Leclair had the record up until today.
Connor Johnson earns his 3rd win in as many starts.
The Titans end the season with a record of 33-8-1 good for 67 points and a six point spread over the Pirates.
The Titans will be in position to announce their first round opponent late Tuesday night following the second suicide game to determine the 8th seed.
Go Titans!
Similar Articles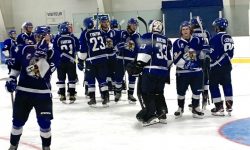 Your Titans played a strong game tonight and after taking a 5-0 lead in the first period, the team cruised
Read More