Blog
Titans edge Spartans, grab 3rd spot
The game tonight at the Centre was a good one, with the winner claiming sole possession of 3rd place in the North division. And it was the Titans that came out on top by a score of 3-1 in a goaltender show between Martin Petiul of the Spartans and Tim Cachard of the Titans. The win tonight is the Titans 11th in their last 13 outings and during this period 10 of these wins were by allowing the opposition 3 goals or less.
Joakim Braneby, who's held a hot stick recently continued tonight with 2 goals, Dayton Murray scored the other goal. Nikita Sidenko chipped in with 3 helpers.
Tim Cachard gets the win coming into the game 7 minutes into the first period as starter Emile Goulet was forced to leave the game with an upper body injury. Shots were 37-30 Titans. 3 stars were Braneby (T), Petiul (S) and Cachard (T).
Next up for the Titans is a home game versus the South Muskoka Shield on Friday November 23rd. By the way this will be Teddy Bear toss night.
Newly acquired defenceman Timur Ulyanov from Moscow, Russia was playing in his first game also.
Similar Articles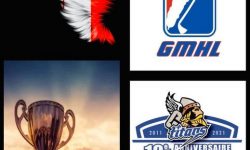 The Greater Metro Junior "A" Hockey League is proud to announce the addition of a National Championship Event to conclude
Read More