Blog
With 4 players back in the line up tonight the Titans went full gear in an impressive 15-6 win over Almaguin.
The Ethier-Maheu-Turcotte line contributed with 11 goals and 27 points.
A memorable 12 points (4-8) for Turcotte, Ethier with 5 goals and 8 points, Maheu 2 goals and 7 points had also quite a game!
Durocher, Provost-Ross, Tremblay and Labelle completed the scoring.
It was a double record night tonight.
Marc-antoine Turcotte is the new Titans record holder for most points in a season with 131 and 6 games to play. Previous record was 122 points, held by Andre Leclair.
With his 2 goals, Zach Maheu has now 41. With Turcotte at 44 and Ethier at 46, it the 1st time ever that 3 Titans reach the 40 goals plateau in a same season.
Titans are now playing Meaford on this Saturday evening 7:30pm at the Center.
Go Titans!
Similar Articles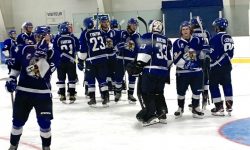 Your Titans played a strong game tonight and after taking a 5-0 lead in the first period, the team cruised
Read More