Blog
Titans demolish Storm 19-1
It was never close, the Titans had their way with the very short benched Bobcaygeon Storm Saturday afternoon at the Centre. No less than 12 Titans were in on the scoring. Leading 6-1 after the first, then 13-1 after the middle period, the Titans added 6 more in the final frame to finish 19-1. Shots on goal were 85-10 Titans. Jacob WIllhelmsson led the onslaught with 3 goals and 5 assists. Gustav Rollfellt had 3 goals and 4 assists, Ryder Murray 2 goals & 4 assi…sts, Charlie Iserhoff 1 goal, 5 assists, Sakari Starkkila 2 goals & 3 assists, newcomer Scott Marshall 1 goal & 4 assists. Other point getters were Scott Sovinsky & Erik Liukko had 2g, 2a each, James Wesley 1g, 1a and Charlie Hammerback had 3 helpers. 3 stars were Willhelmsson, Rollfeft and Marshall. Patrik Kusnirak got the win.
Une victoire ecrasante 19-1 contre le Storm.

Similar Articles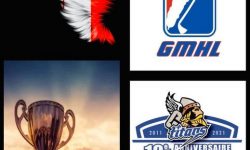 The Greater Metro Junior "A" Hockey League is proud to announce the addition of a National Championship Event to conclude
Read More