Blog
Titans shutout Sharpshooters in 8-0 pre-season matchup
First outing of the Titans this afternoon in a pre-season game against the Ottawa Sharpshooters.
It is obviously only an exhibition game but all the same. Hard to be dissatisfied when you win 8-0 and direct 56 shots on the oppositions net.
The team already has a very interesting cohesion so early in the season.
That the Titans have a potent attack, this was known for some time, but it is the quality of our 2 main goalkeepers that had a lot of fans cheering for and talking about. Bobby Cloutier (40 min) and Eloi Bouchard combined for the shutout.
Offensively, Nik Tremblay was particularly distinguished, although several others also had an excellent game from an offensive point of view.
The Center still resonates with Aleck Forcier's hard-hitting check against an opponent who has remained down for about 5 minutes. Note that Forcier simply used his body in this powerful blow, a legal hit in the eyes of the officials.
This match allowed us to try out some experiments. Some players have tasted a role that will not necessarily be theirs in the regular season. A pre-season game is the perfect time to try things out.
The Titans have the day off tomorrow.
A dozen of them will participate in the Wajax Ball Tournament at the Temiscaming Ball filed. This is an annual event in conjonction with the Youth Center (MDJ)
On Monday, the guys will work with former NHL'er Gaston Gingras.
A good day for YOUR Titans.
Similar Articles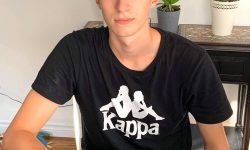 The Titans are pleased to announce the signing of goaltender Tyson Beaudoin, the team's 4th round pick in the last
Read More