Blog
Titans are excited to announce the signing of goalie Benoît Aucoin (2005) 5'11" 181.
Benoît comes to us from the excellent OHA Prep program. He is a serious young man, motivated, very combative in front of his net and a solid overall prospect.
Benoit maintained a 1.54 GAA and .933 SV% in the East Coast Elite League last season.
Product of the Harfangs du Triolet program previously, Benoît aligned seasons of 2.00, 2.33 and 1.75 between the ages of 13 and 16 in the AAA level or D1 ranks
A remarkable path so far in elite hockey.
The young man from Sherbrooke had various options offered to him, having taken part in OJHL camps recently, but chose to sign with your Titans aiming to eventually reaching the US College ranks, all based on a plan of a few seasons with us.
We are more than pleased to welcome Benoît to our Program.
Welcome to Temiscaming Benoît.
Similar Articles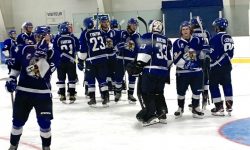 Your Titans played a strong game tonight and after taking a 5-0 lead in the first period, the team cruised
Read More