Blog
Titans are pleased to announce the signing of defenseman Loik Lepitre (2005) 5'11" 160.
A smooth skater right-handed defenseman, Loik stood out at pre-camp Kingsey Falls.
Last year with the Sherbrooke Phoenix M18 he had 7-29-36 pts in 47 games, regular season and playoffs combined. he adds to a group of solid defensemen and his presence will bring more depth to our Corp.
Loik comes to Temiscaming to develop his skills and gain more experience.
Our rookie joins our Sherbrooke group of players which already includes forwards Nathan Hardy, Jérémie Marcoux, defenseman Victor Fortier, and goalie Benoît Aucoin. So we are at 5 guys from Sherbrooke on the team.
Welcome to Temiscaming to our new number 96, Loik Lepitre.
GO Titans!
Similar Articles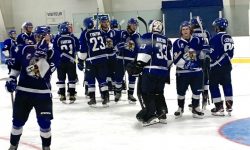 Your Titans played a strong game tonight and after taking a 5-0 lead in the first period, the team cruised
Read More