Blog
Titans are pleased to announce the signing of defenseman Shawn Boudreau (2003) 6'1" 160.
Shawn is a product of the Conquérants de La Sarre U18, his home's team. He is therefore a regional player.
It was his participation at our Kingsey Falls tryout that eventually led to his signing with us. He also joins a team in which he already has a number of friends, which will facilitate his integration.
Shawn thus becomes the 24th player under contract for the coming season which begins in 1 month.
Our new Titans will join the team for training camp which starts in 1 week here at the Centre.
Welcome to the Shawn Titans.
Similar Articles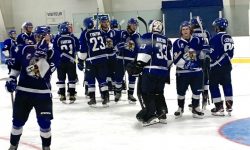 Your Titans played a strong game tonight and after taking a 5-0 lead in the first period, the team cruised
Read More