Blog
RUSSELL FINALS SERIES
To help you plan a bit, here are the dates for the Russel
Finals depending on whether we face the Durham Roadrunners or the North York Renegades.
Note that we chose to start on the road so that we could play games 3-4 and 5 (5 if necessary) at home.
DURHAM
Monday 4 and Wednesday 6 in Durham
In Témis: Friday 8-Saturday 9 & Sun 10 (if necessary)
NORTH YORK
Sunday 3 & Monday 4 in North York
In Témis: Thursday 7- Friday 8- Sat 9 (if necessary)
The Finals will be a Best of 7
As for our rivals:
Durham lead the Southern Division Final 3-2.
The next game in this series will be played tomorrow in North York.
So far these teams have only managed to win their home games.
So we are still waiting to find out the identity of our rivals and watching the whole thing unfold.
We could find out the identity of our rivals late tomorrow or late Friday night if a Game 7 is needed.
GO Titans!
Similar Articles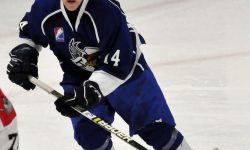 While the team had taken a 4-2 lead after 20 minutes, the Lynx came back into the game to level
Read More