Blog
Alex Provost-Ross back for year #3
The Titans are very pleased to announce the return of an important leader and integral part of the team.
Alexandre Provost-Ross (99) 6'4 " 220lbs will indeed play a 3rd season with the Titans.
The power forward has amassed 41g-61a for 102 points in 77 games for the Titans, playing either on the wing or at center.
This is what our GM François Harrisson had tihis to say about this popular player among fans:
"Alex is the power forward sought after by every organization. Alex is the prototypical two way player. He is very efficient at digging in the corners and coming out with the puck. Alex can be found parked in front of the opposing goaltender either causing a screen, looking for a deflection or that ever present rebound. His persistence also permits him to be a very efficient penalty killer as well. He covers all three zones very well
Alex is also a good athlete to lead, a good young man who takes his sport to heart and wants to win.
We tend to forget it but Alex joined the team when he was only 18 years old. We have seen him progress in time as a player as well as a young man. He will certainly have a major role within the team this season.
Bringing Alex back to the team was a priority on my summer action list. "
The Titans and the fans wish you a good return to Temiscaming Alex, your home away from home.
Similar Articles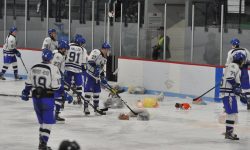 Come out to the Titans game on Friday December the 6th as they host the Bradford Bulls. And when the
Read More