Blog
In a game that was close at 3-3 in the 3rd period, a series of penalties proved costly and the Titans lost 10-3 to Ville-Marie.
Nico Grégoire with 1 goal and 2 assists contributed to his team's 3 goals.
Despite the many goals scored, young goalie Emmanuel Pepin had a very good game and couldn't do miracles as 6 of the goals were scored while we were playing shorthanded.
Titans fielded the youngest team in their history for this game when only three 21-year-old players were in the lineup due to injury or suspension. The average age was 18.4 years for Blue.
Your Titans play their next game Saturday at Bancroft.
Similar Articles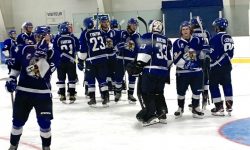 Your Titans played a strong game tonight and after taking a 5-0 lead in the first period, the team cruised
Read More