Blog
Titans are pleased to announce the identity of the player who will complete the team's trio of goalies.
Gabriel Labbé (2005) a young 6'2 "goalie from Drummondville, Qc will start his Jr career alongside Éloi Bouchard and Tyson Beaudoin.
We see great potential in Gabriel and his rookie year here will be of particular benefit to him.
Gab is pursuing his school at G Théberge in Témiscaming, as is our young defenseman Karl Champagne. They are both in secondary 5 (grade 11).
Your Titans have a nice balance in goaltending with Eloi age 20, Tyson 18 and Gabriel 16.
Welcome to the Titans Gabriel.
Similar Articles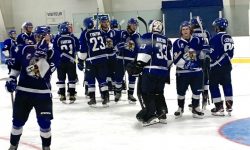 Your Titans played a strong game tonight and after taking a 5-0 lead in the first period, the team cruised
Read More