Blog
We are very excited to announce the signing of forward David Fontaine (2000) 5'10 '180 for the coming season.
Formerly with the Blainville-Boisbriand Armada in the QMJHL, David has mainly played in the Quebec JrAAA League. Had it not been for last season's cancellation, David would have been one of the most productive forwards of the league.
Thus deprived of his "20-year-old season", lets note that David has scored 39 goals in 85 games in 2 seasons in the JrAAA, at age 18 and 19.
Drafted by the Titans in the 2020, David has decided to add 1 season to his Junior career, particularly motivated by the team's goals and our guaranteed participation in the Canadian Championship.
His excellent 2017-18 season of 41 points in 40 games with the Gaulois de St-Hyacinthe Midget AAA earned him to also play that same year for the Armada in the QMJHL.
Very good athlete, also a former football player, he was selected"Best running back in Quebec" a few years ago.
We are very pleased to welcome David to the Titans.
Welcome to Témiscaming David
Similar Articles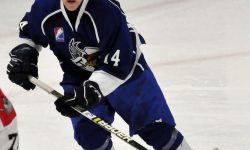 While the team had taken a 4-2 lead after 20 minutes, the Lynx came back into the game to level
Read More