Blog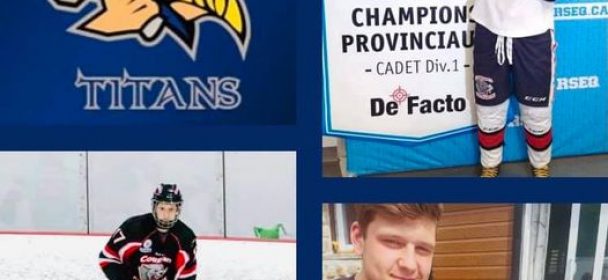 The Titans are pleased to announce the signing of forward Christophe Laniel (2003) 6'3 '' 185.
Christophe had 2 excellent seasons with the Cadet or Juvenile teams of the Cougars de Cap Jeunesse.
A natural scorer, Christophe in 2018-19 scored 28 goals in 28 games for a total of 49 points in these 28 games. He was also called up to the Juvenile that same season, scoring 1 goal in 5 games.
In his rookie season in the Juvenile category, the powerful winger obtained 19 points, the result of 12 goals and 7 assists in 28 games.
His performances have earned him to see his name on the list of the QMJHL Central recruiting.
But like so many others, was deprived of a season in 2020-21, which would normally have been his big one.
The Cougars were crowned provincial champions in 2018-19.
In the semi-final, Christophe scored 3 goals and was chosen the player of the game.
Then in the final, Christophe repeated his excellent performance by scoring 3 other goals and again being chosen the player of the game.
We are very pleased to welcome him to the Titans.
Welcome to the Titans Christophe.
Similar Articles
Titans showed up tonight and played a much better game than the day before. Unfortunately they lost 5-4 against the
Read More