Blog
The Titans are pleased to announce the signing of power forward Blaise Coocoo, (2002), 6'6″ 212lbs.  Blaise was selected as a result of the Kingsey Falls mini camp. This was his second tryout with the team. The young man from Wemotachi is a surpringly fast skater for his size. He plays a North-South game which makes it difficult for opposing defensemen to handle.
He will undoubtedly be a forward who will not go unnoticed in any game.
Welcome to the Titans Blaise.
Similar Articles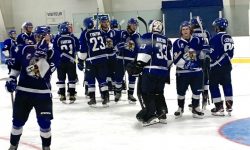 Your Titans played a strong game tonight and after taking a 5-0 lead in the first period, the team cruised
Read More